In partnership with the Computer Game Design Program, the VSGI offers The Master of Arts (M.A.) degree in Computer Game Design. The M.A. degree requires 36 credit hours comprised of core courses drawn from interactive design, creative writing for games, the business of games, game design and production, and electives from other Mason graduate programs. This degree will prepare students for employment in the computer game design and development fields which include the commercial, entertainment, serious games, and federal sectors. This degree's curriculum is designed to reflect the games industry's demand for an academically rigorous technical program coupled with an understanding of the artistic and creative elements of the evolving medium.
Students who will be attracted to the M.A. in Computer Game Design are those who have both science and artistic strengths, as this unique degree program depends the student's participation in both knowledge areas. Prior to the emergence of the game design field, these students frequently opted to pursue only computer science, digital arts, or graphic design graduate degrees limiting their employability in the game design industry. Computer Game Design's interdisciplinary nature allows students to value several areas of research and discovery; students benefit both academically and professionally from several disciplines. They are prepared to respond to the unprecedented growth of computer game design activities and practices around the globe.
The M.A. in Computer Game Design encourages innovative and entrepreneurial teaching and learning, preparing students for professional careers in the many fields that employ game design methods. Students work with their faculty to investigate how game design intersects with education, entertainment, sciences, research, and business systems. With the guidance of the faculty member, the internship experience allows a student to participate in applied research at the Virginia Serious Game Institute (VSGI), to gain meaningful knowledge, and to learn methods of communicating both research and knowledge to a variety of audiences.
The program encourages students to take elective courses from disciplines across Mason's campuses. The courses on the list of suggest electives reflect the interdisciplinary nature of the program, and they reflect the diverse skills needed to be innovative in the professional fields of game design. After completing the coursework, the students determine if a project or a thesis is more pertinent to their future ambitions and research interests. The students' committee will include at least one member (two suggested) from a discipline outside of the Computer Game Design Program, potentially a faculty member from one of Mason's education, business, sciences, or management programs.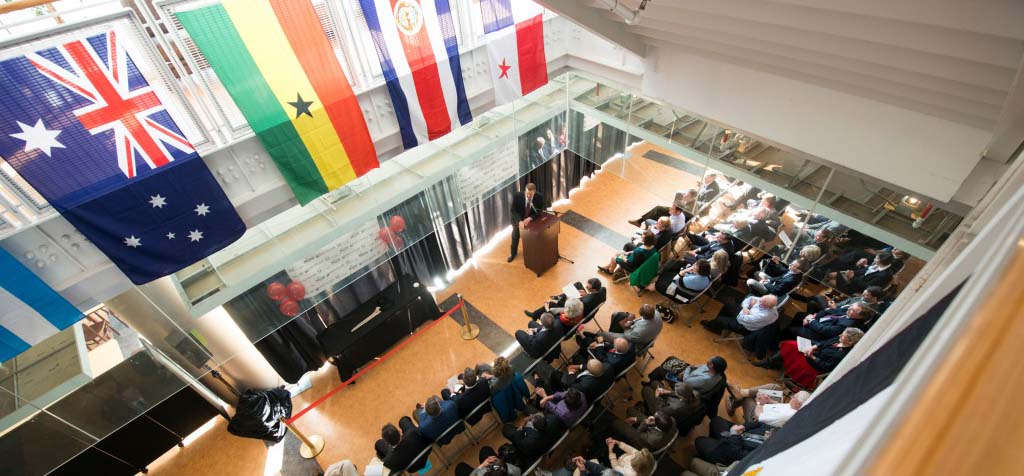 The Computer Game Design Program is central to the cultural development of the region, raise Mason's profile in the discipline, and enhance the region's economic vitality.
For more information about how to apply, take courses, or visit the GMU Fairfax and PW Campus, contact Mary Bean