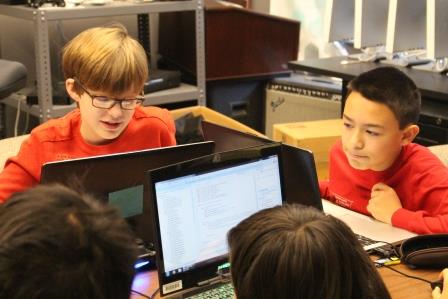 Java 1 – An Introduction to Object-Oriented Programming
This course is an introduction to the world of object-oriented programming, and it will provide students with a basic understanding of the Java programming process.
Java is a great language to learn because it will teach students to think logically and analytically, and it will help them grasp how a computer will process information. It provides students with a fundamental set of core concepts that will assist them learn other languages.
This course will cover programming basics, input, output, data structures, methods, file io, class hierarchies, and object oriented programming. Object-oriented programming concepts, simple tutorials, and game building examples will be used to learn the Java language and syntax.
No previous programming experience is required, but solid keyboard / typing skills are required in order to successfully participate in this course.
Dates:  A total of seven Saturdays October 15, 22, 29, November 5, 12 ,19 (skip Nov 26/Thanksgiving), December 3
Ages:  14 and up (or with instructor's permission)
Time:  10:00AM-1:00PM (w/ 20-minute break)
Please note that on day 1, class will begin one hour early to ensure that all students have successfully downloaded the software required for this class.
Tuition:  $99


Instructors: Andrew Peace and Oscar Quinteros
See Faculty Bios
Hardware Requirements
Students will need a Windows or Macintosh or computer with the following specs:
Operating System: Windows 7 SP1+, 8, 10, OSX 10.8+;
RAM: Minimum 4GB
Graphics card with DX9 minimum
Hard Drive space OR Solid-State: with at least 1GB space.
Software required (downloads)
Java 8 JDK: http://www.oracle.com/technetwork/java/javase/downloads/jdk8-downloads-2133151.html
JGrasp: http://www.jgrasp.org/
CONTACT US
Mailing Address:
Mason Game and Technology Academy
Virginia Serious Game Institute
10900 University Blvd.,
Bull Run Hall Ste 147
Manassas, VA 20110
Phone: (703)993-7101
Email: MGTA Founding Director: Vera Lichtenberg, vlichten@gmu.edu
MGTA Admin Assistant: Nerissa Hart, shinterl@gmu.edu